When most decking companies promote their business, they make sure to include a picture of a deck on a perfect day — sun shining without a rain cloud in sight. However, we all know that not every day is perfect. But that doesn't mean you can't use your deck all year round!

This is especially important in a four-season climate such as ours. We all know that our summers can get oppressively hot, but our winters can be equally powerful.

With that in mind, here are some of our best ideas and solutions for using your deck, regardless of the weather!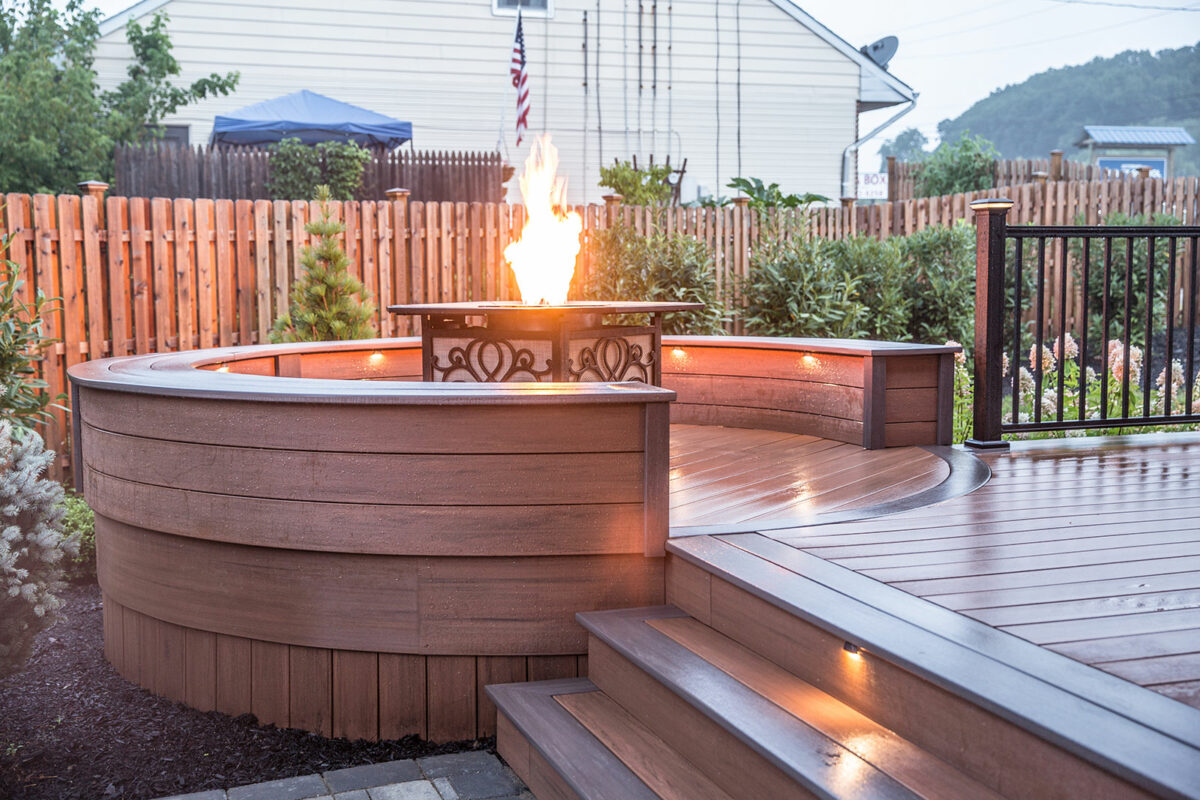 Keeping Warm in Winter
Many homeowners just assume that their deck will go unused during the winter months. However, the morning after a fresh snow or a crisp autumn evening can be the most enjoyable time to take in the outdoors. You just need to prepare to make sure you don't have to retreat back inside after just a few minutes.

Outdoor Propane Heaters

Luckily, outdoor propane heaters have become more popular, and are being designed with more than utility in mind. Just make sure you are placing your heat source in a safe place where dried leaves or brush won't accidentally ignite.
Fire Pits

Fire pits are another easy-to-install, yet visually attractive, design option. Smaller, bowl-style fire pits are affordable and can be easily moved around your outdoor space. A permanently-installed fire pit can serve as a focal point of your outdoor design.

Either way, just make sure you are paying attention to fire safety. Be mindful of where you install your fire pit and always make sure that your fire is well-attended and fully-extinguished before going back inside.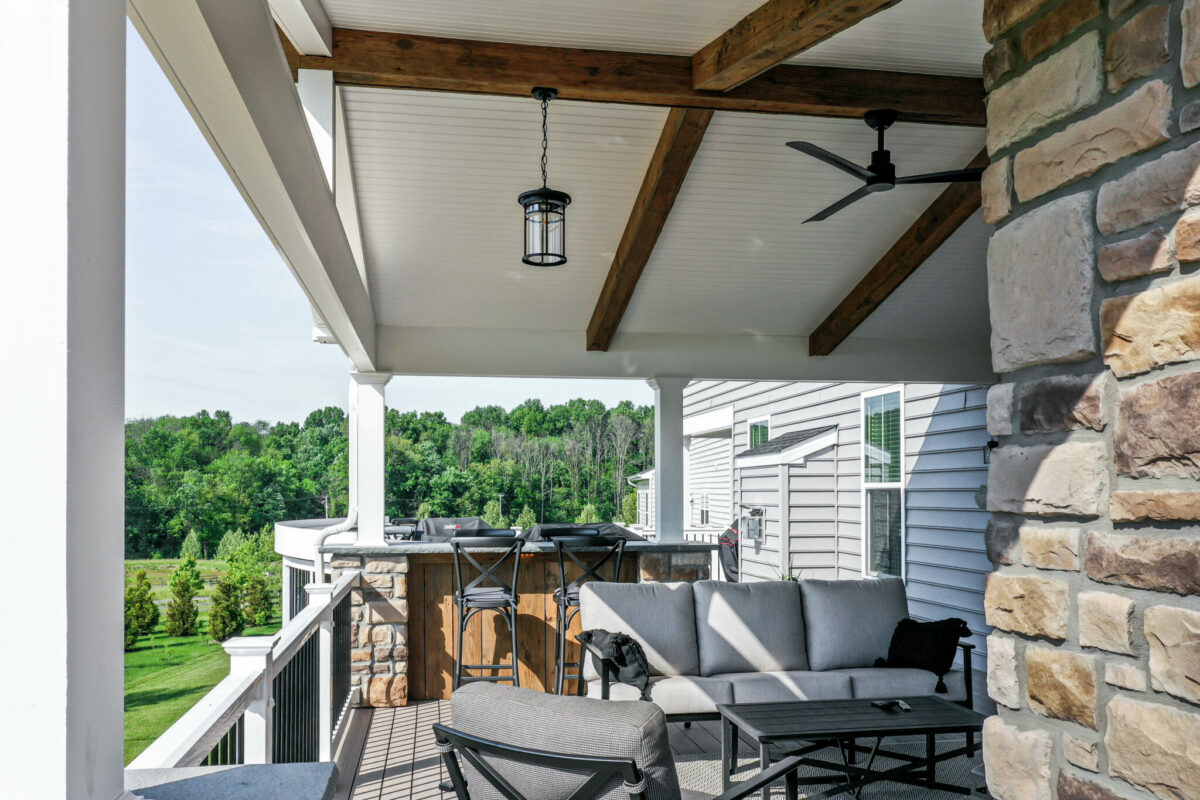 Staying Dry on a Rainy Day
Obviously, many of the same solutions for providing shade will also provide shelter from the rain. However, keep in mind that protection from rain requires more solid surfaces than a shady trellis will provide. Moreover, if you want to really spend time outside when it is raining, you will want enough coverage so that you can move around your outdoor space without sprinting through a torrential waterfall.
Think Roofing, Whether Permanent or Retractable
In the end, the best way to enjoy your deck in the rain is to install some form or roof or awning. A retractable awning provides maximum versatility, which is great if you have a smaller space that you want to use to soak up rays on sunny days. However, many people find a more permanent structure to be more aesthetically pleasing. You could even opt for a glass or other clear roofing material if you want shelter but still want to let light in.
Keeping the Wind at Bay
Sometimes wind can make a relaxing spot more stressful. You don't want to have to chase your napkins or newspapers all over the yard when a strong wind picks up.
Take a Tip from Beach Design
Because of the prevalence of high winds along beaches, beach deck owners often install either soft or hard windbreaking elements. This may be a vinyl curtain — made out of the same material as a retractable awning — or a harder surface, such as corrugated metal or wood paneling.

Not only are such elements excellent for cutting down on crosswind, they are also great for providing shade during certain periods of the day. Further, they will give your deck a tropical feel, which is great for those who'd rather be at the beach!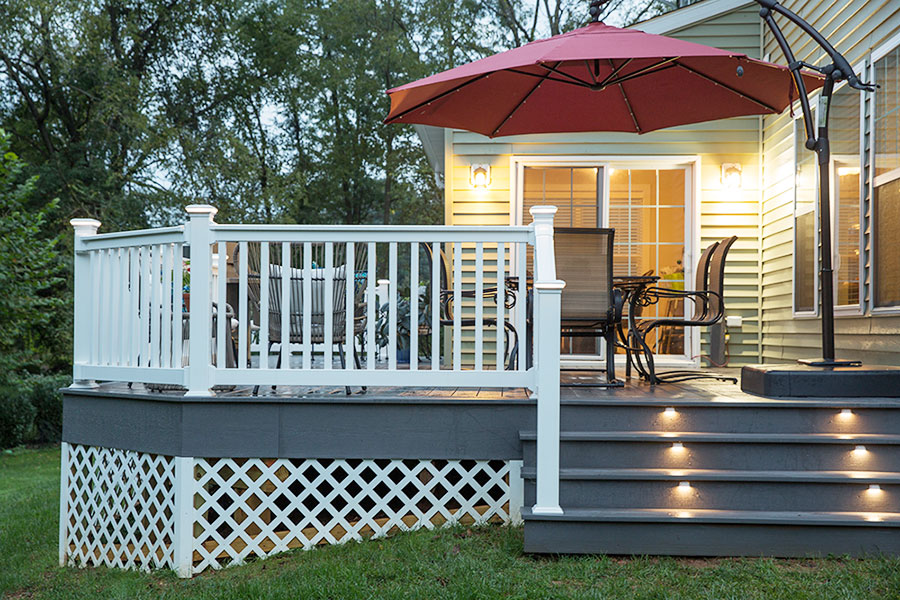 Using your deck to beat the heat
Obviously, if your deck is poolside, you already have the perfect solution for using your space in the dog days of summer. However, even if your deck isn't an aquatic accessory, there are still plenty of ways to make your outdoor space better suited for the heat.
Focus on Shade
The best way to make your deck a retreat from the heat is to give your space plenty of shade. Depending on the size of your deck, you can do this several ways. You can install a pergola, which can be used to accommodate vertical gardening. You can use a large shade umbrella, which is perfect if you want a shade source that can be removed in cooler temperatures. You can even install a roof or retractable awning that will give you year-round shelter, not just from the sun but from the rain, too.
Keep the Cold Drinks Close
This is a simple solution, but a decorative ice bucket or even an outdoor refrigerator can make getting a cold beverage that much easier. Copper is especially in these days, so a large copper ice bucket will be an attractive and affordable addition.
Ceiling Fans
Not every deck has a roof, but if yours does, you can also install a ceiling fan designed specifically for outdoor use. This will keep air circulating while you enjoy your outdoor space.
Keeping Mosquitoes at Bay on a Muggy Day
There is a big difference between heat and humidity. If the sun is hot, shade can go a long way. But on especially muggy days, you need different solutions — although they can certainly be combined with other summer comfort options.
High-Powered Mosquito Repellants
Most Americans are familiar with DEET sprays, which can be uncomfortable and may have adverse health effects. Citronella candles are common, but many report limited effectiveness.

Luckily, new high-powered mosquito repellants, like the Thermacell Radius Zone Mosquito Repellent, have been thoroughly tested and are both effective and easy to use.
A Small, Simple Fan
If you want to repurpose something you already have sitting around the house, consider using a simple personal-sized fan. Not only will this keep the air moving, thus cooling you off on a muggy day, but this type of fan will also deter mosquitoes from entering the area. It's not quite as effective as a specially-designed repellent system, but you will definitely notice the difference.
Regardless of the season, your deck is great place to spend time with family and loved ones. So why not find a solution for using your investment year-round?
Here at Integrous, we are passionate about providing the highest-quality deck installations with that personal touch to all of our Pennsylvania neighbors. Contact us today if you're ready for a year-round outdoor space!