The first step in adding a beautiful new deck to your home is choosing a decking material. There are many options to choose from and your best choice will depend on your budget, needs, and specific tastes.
However, for customers here in Pennsylvania, the best all-purpose solution is composite wood decking. While it has a slightly higher upfront cost, composite wood requires far less care and is more durable. It also doesn't weather or splinter like pressure-treated or specialty woods. As a result, it's a higher value option in the long run.
There are, however, a few situations when other materials may make more sense for your needs:
Aluminum/Metal Decking
If you are building a deck next to a pool, hot tub, or along a lake, pond, or other body of water, you may want to consider aluminum or metal decking. These materials will resist moisture, which is a must when being installed in areas that are guaranteed to get wet.

Additionally, aluminum decking is actually cooler in the sun, which is an added plus if you plan on walking on the deck regularly in bare feet. Plus, aluminum decking is not susceptible to wood-boring insects.

However, it is also a costly option up front, so it is best suited for decks that need to withstand lots of water on a regular basis.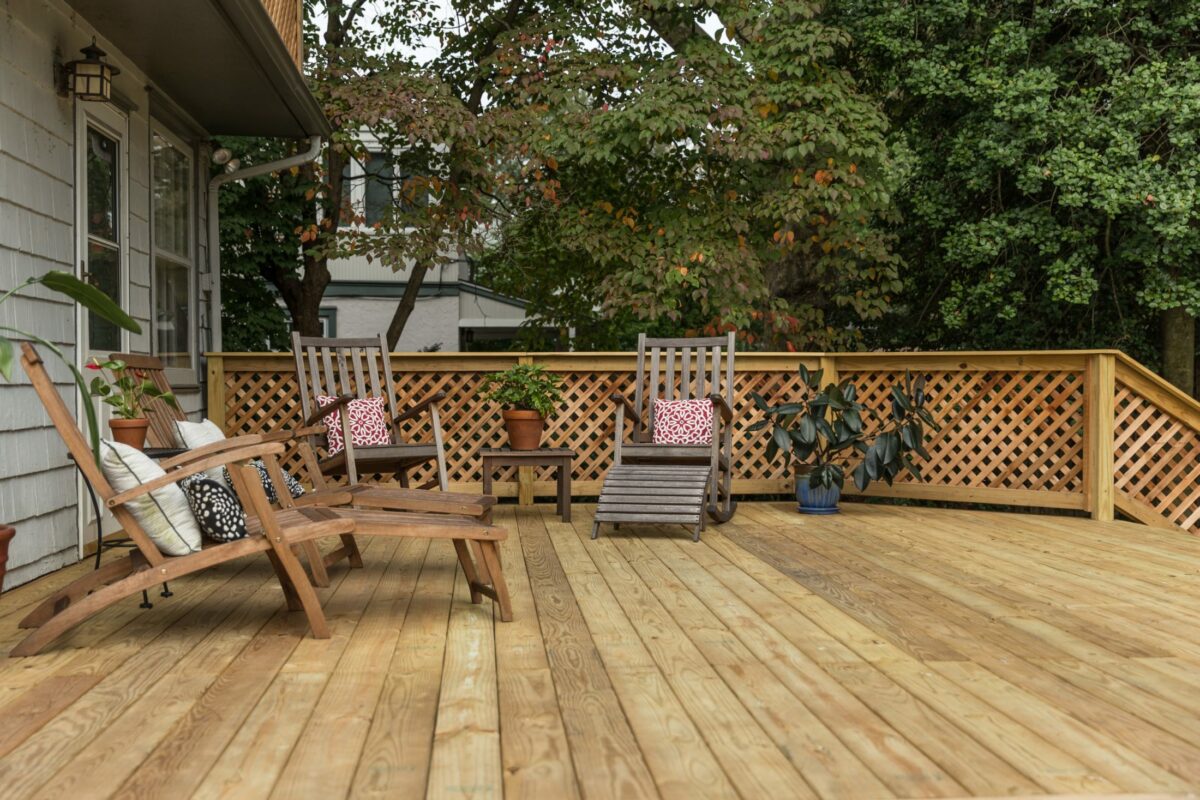 Pressure-Treated Wood
If low upfront costs are important, or if you are confident that you can commit to the regular maintenance needed, pressure-treated wood decking is still a great option. Regular maintenance includes re-staining or painting as well as yearly power washings. Even then, you need to expect that over time, pressure-treated wood will occasionally splinter, crack, and warp.

Many people are also concerned about the chemicals used in the pressure treating process. However, you can be confident that any pressure-treated wood bought today has been manufactured using less toxic materials, as strict regulations were put into place in 2003.
Specialty Wood
For those who want add a luxurious touch to their deck, specialty woods are a nice touch. Redwood and cedar are the two most common woods used in decking, as both contain oils that make them naturally resistant to weathering.

Keep in mind, this doesn't mean that these materials are weatherproof! They will weather at a faster rate than composite decking and still require regular care. You should apply weatherproofing regularly to prevent splitting, and the wood will change color over time, meaning you'll need to apply a new coat of stain to restore the natural color.
Additional Construction Materials
Know that the decking materials discussed are not the only materials that will be used. Even if you choose composite wood, other materials will be included to support your deck.

Pressure-Treated Wood
The support beams — including the posts and joints — that hold up the decking surface will be made of pressure-treated wood because of the size and strength required.

Concrete
A stable deck also requires concrete. The concrete will be used to anchor the support posts into the ground. Here in the temperate climate of Pennsylvania, the anchor holes need to be deep enough to avoid damage from freezing and thawing cycles. Many do-it-yourselfers fail to dig below the frost line, which will eventually cause the deck installation to fail.
Overview of Decking Materials
Composite Decking

Pros: Composite decking is the most weather resistant material and it is almost completely maintenance-free. If you are looking to install a gorgeous deck that will last well into the future, composite decking is the highest value option, whether measured by long-term investment costs or in time saved on maintenance.

Cons: Some people do not like the look of composite decking, as even the highest quality composites are identifiable as manmade. Therefore, traditionalists sometimes avoid this material. That being said, composite decking designers continue to develop products that increasingly look like real wood.

Costs: Between $2 and $5 per linear foot.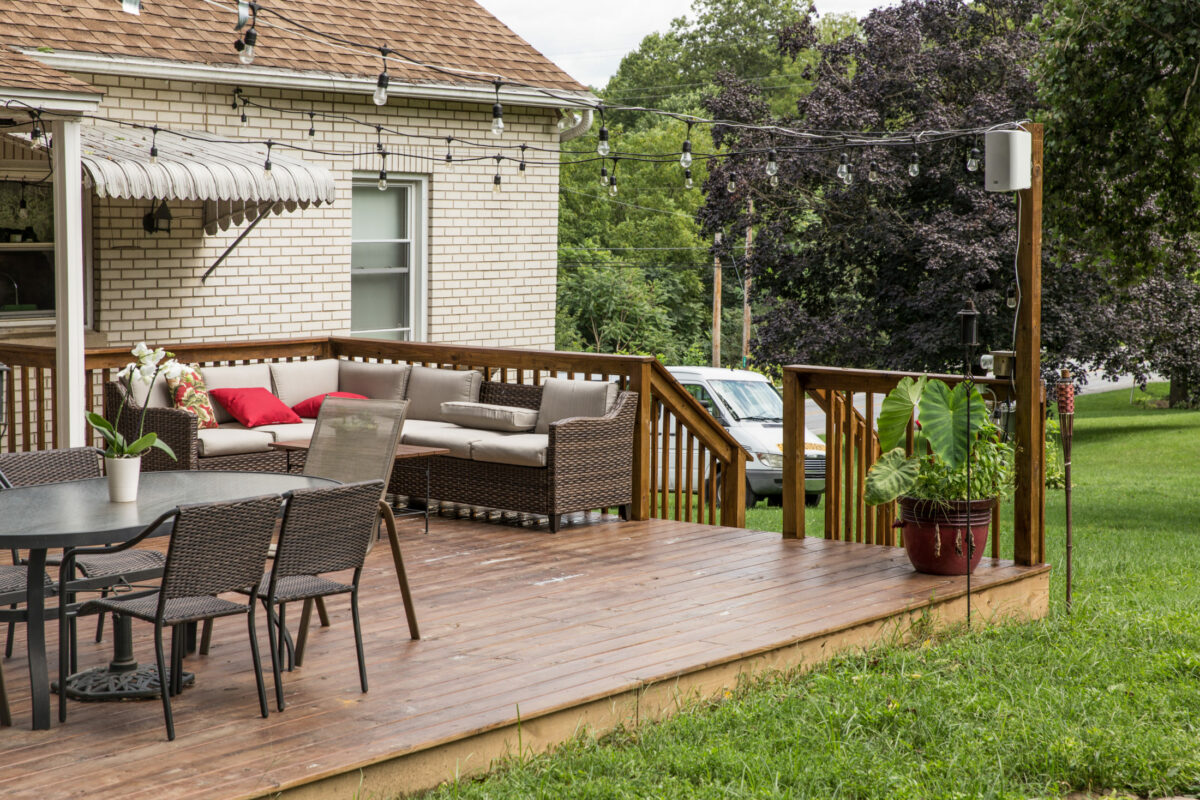 Pressure-Treated Wood Decking

Pros: This is the lowest initial-cost option. For those who don't mind the regular maintenance, this is a fine choice.

Cons: As the deck ages, it requires more attention and will inevitably warp over time.

Costs: Around $1 per linear foot.

Aluminum Decking

Pros: Aluminum is highly resistant to water damage and wood-boring insects and does not get as hot in the sun.

Cons: It is very costly and may not look the way many homeowners would prefer.

Costs: Around $9 per linear foot.

Specialty Wood

Pros: For many, this is the best-looking material for decking. It also weathers better than pressure-treated wood.

Cons: Despite costing as much as or more than composite decking, specialty woods are not as weatherproof. When installing speciality woods, there are still future maintenance costs and time investments.

Costs: $3.50 or more per linear foot.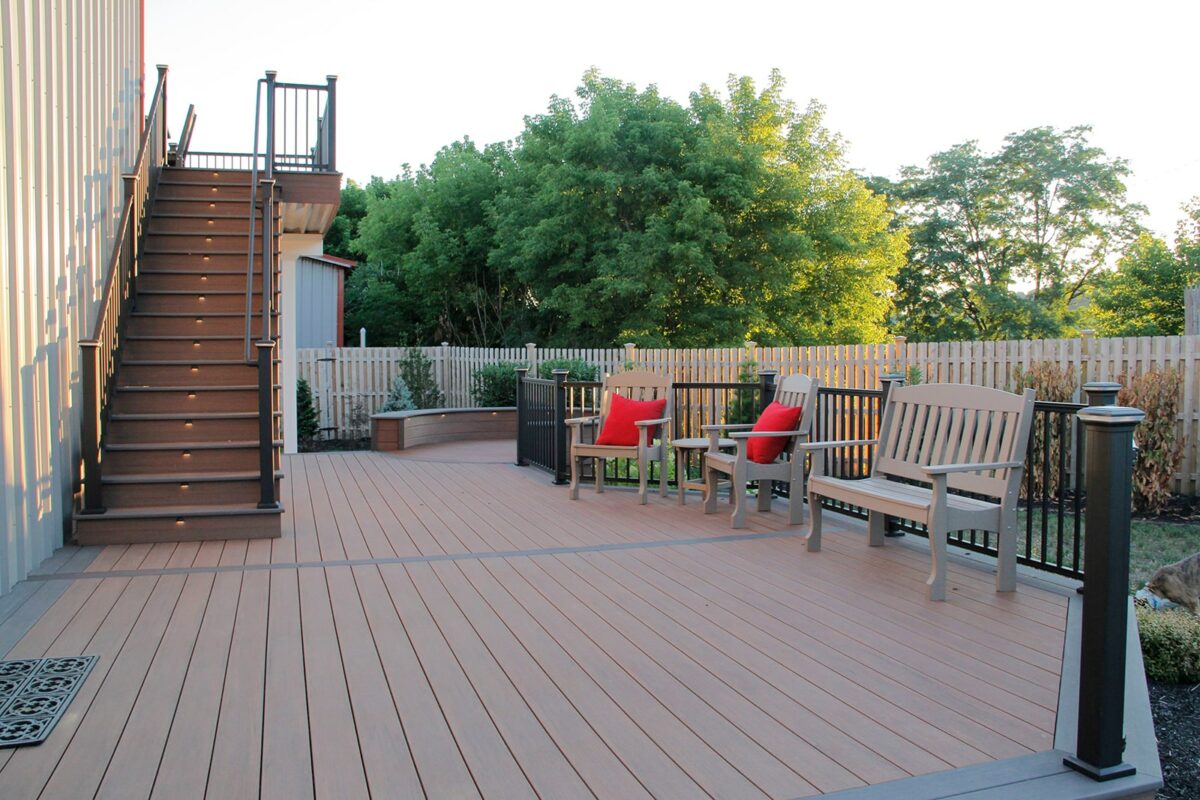 For most homeowners, composite decking is the best option.
As a material, the quality and look has only increased over the years, and composite provides the most long-term value. It is easy to maintain and does not weather, splinter, or crack. Unless you have specific preferences or reasons to choose another decking material, composite is the best option for you!
And remember, if you're looking for a new deck here in Pennsylvania, Integrous provides the expertise and personal touch you need to ensure that you have a beautiful deck to enjoy for years to come!