Classic, Budget-Friendly Privacy

Stockade Fences

Stockade fences are the most affordable privacy style, offering a high value, long-lasting solution. Created without space between individual pickets, stockade fences are ideal in situations where a complete visual barrier is needed.
At Integrous, we design and build stockade fences for situations where complete privacy is desired. Popular for areas that are less noticeable or where budget is a key consideration, stockade fences can serve as a backdrop for landscaping, be used to surround gardens and pools, or provide clear separation between your property and your neighbor's. 
Ready to build your stockade fence? Contact us to get started today. 
Download Our Catalog
Request A Free Consultation
Complete the form below and we will schedule a time to discuss your project.
Benefits of Stockade Fences
Provides high privacy and protection, making it a great option for families with young children or pets
Offers strength and durability while still being a cost-effective choice
Dampens noise from busy streets and limits airflow
Creates a solid visual barrier, which can be used to offset landscaping, obstruct views, or enclose a swimming pool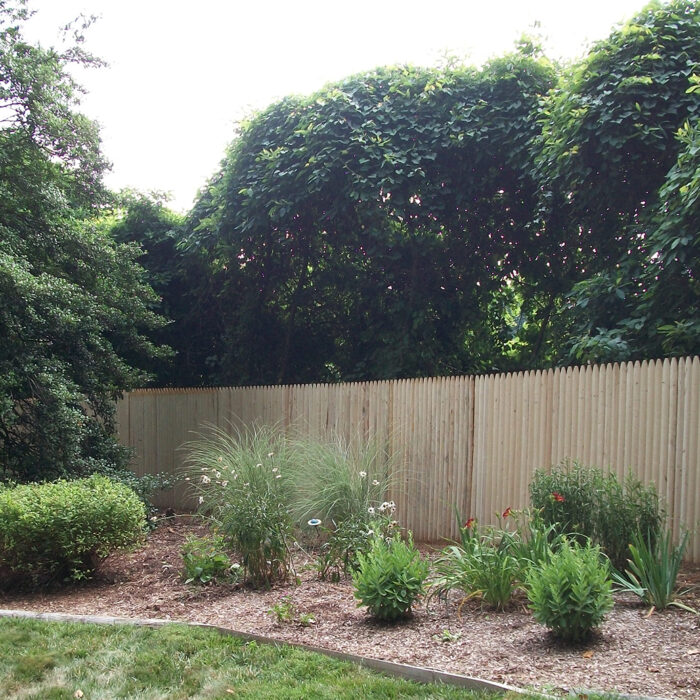 Classic Spruce Construction
We build all stockade fences with #1 grade spruce, which is known for its beautiful, sunny characteristics. Beveled, Gothic-style pickets add both elegance and traditional visual appeal to every design. Similar to other wood fence styles, our spruce stockade fences offer natural beauty and blend into the design of your backyard. Over time, spruce ages to a distinctive gray color, but can also be stained to a variety of different natural hues.